7/20/17
Today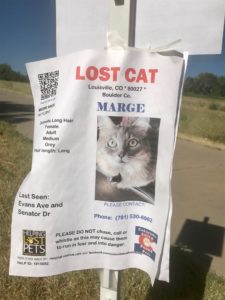 on the path again I noticed Marge has another flyer, but with a different picture! (Wait, don't go! Stay with me. Lost cat signs occupy a lot of space in my brain.) I am so impressed with the professionalism of this search effort. It's the same information, but in this photo we zoom in tight on Marge's face and we seem to be looking down on her from above. She looks up at us with her beautiful, agate green-grey cat eyes, and you have to admit that the different angle does give you a new perspective on Marge's appearance. You really need to see a cat from multiple angles to be able to recognise them out on the street.
The strange thing about this photo is that Marge has a mini camera lens attached to her neck. Look! Zoom in on it. It is small and black with writing on it and definitely looks like a piece of photography equipment. I Googled "cat camer" and before I even finished typing, Google immediately filled in "Cat camera collar"! So they exist! This led to me watching an 8 minute YouTube video taken by two cats with Go Pros strapped to their necks, called "Go Pro Cat Collar Cam — What the cats really get up to when no one is home." (A lot of sneak-attacking each other and freaking out at the red lights which is no doubt a side effect of having to lug around a camera strapped to your collar. Also, you'd think you'd vacuum your floors if you were going to post a homemade YouTube video made by your cats.)
I'm fascinated, both by cat camera collars and this very heroic active denial of Marge's most certain death-by-eating by packs of rangy coyotes (which is what happens to roaming cats 'round here). It makes me want to tell you all of my own cat stories. Most cat stories don't end well. If a sentence begins, "did I tell you what happened to my cat?" buckle-up.  And, I have more! More signs about Marge! So stay tuned….