It's Christmas! I love Christmas!! I really do.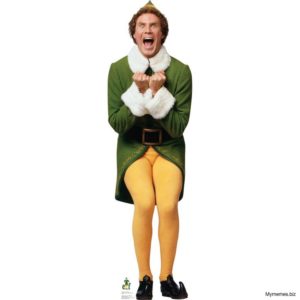 It's a magical, swirly-twirly gumdrop time of year when everyone in the world is required to slow down and get in a good mood. That's all I ask. Though sometimes it feels like the universe wants to get all up in my face about it. Try as I might to enjoy the season and appreciate my good life, all around me the Ebenezer Scrooges are conspiring (EBENEEEEEZER!!!).  In my mind a vision has formed, not of sugarplums, but of 1000 cranky Ebenezers flying through the darkening sky on broomsticks, extending their middle fingers, and zapping all the pure, innocent Christmas goodwill they can see with their red laser beam eyes. Why on brooms? We're not in Oz. Why laser beams?  I don't know. You tell me. I'm the one over hear trying to be fucking nice.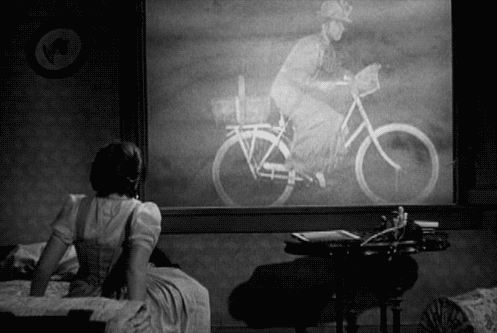 This image is a mix of metaphors and it's as weird to me as it must seem to you. It's not my usual thing. Could this be a reflection of a chaotic mental state? The musings of a mental patient? Deep in the dark wintertime, I find it a heroic daily battle to stay positive. I usually begin each morning with at least a good humored attempt at optimism; by bedtime, I'm questioning all my life choices.
I'm down as fast as I'm up on this holiday rollercoaster ride. I'm making lists, I'm shopping, I'm sad and lonely/happy as a candy cane(!), I'm decking the halls of my son's second grade classroom, I'm regretting we didn't visit Santa, I'm driving around looking at Christmas lights, I'm screwing up a candied fudge recipe and chucking the mess in the trashcan before anyone can know.
Are the Republicans right? Is Christmas under attack? Not in the way the morally confused, hyper-religious right means. Not under attack by the New York Times, Obama, Starbucks, and the "snow flakes" who stand accused of trying to speak inclusively about the holidays and not alienate nonchristians by pretending that everybody in this country celebrates the same holiday and the same God (because, obviously, if you don't stand with Jesus and Santa, we can't see you na, na, na, na, na!).
There! Did you just see that? I went into a cranky shank spiral. What is that? Why is it so hard to be pleasant? Laser beams.
My neighbors' cat just got run over by a red truck and then limped into their kitchen to die. That's according to Mike. The dad told my husband. He wouldn't tell me, because he doesn't talk to me due to some unknown offense I committed, ohhhh… I'd guess about 11 years ago as that was the last time they waved at me. That's a long time to hold a grudge. What could I have done? Did I look askance? Not invite them to a BBQ? Act all uppity. Throw burning garbage in their front yard while cackling loudly and posting a yard sign reading "FU neighbor, I voted for all the political candidates you hate the most"? Not send them a Christmas card? It was probably the second to last one. I went too far that time.
Had the d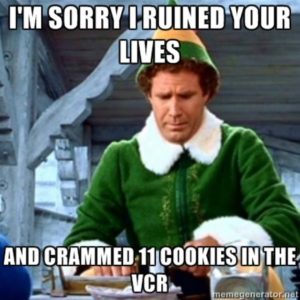 ad told me about his cat tragedy, I would have responded like a human. Had he confided in me, I would have consoled him and expressed empathetic outrage at the truck driver who sped unreasonably fast through our quiet neighborhood. "What's wrong with people?" I'd have looked up to the sky and demanded an answer from the flying Ebenezers… just for his sake.
But never mind them (see how uppity I am?). Last weekend I went to the mall to Christmas shop! Shopping by myself… that literally never happens to me. Christmas music piping through the stores, yummy smells, shiny-eyed kids waiting in line for Santa… After about two hours of walking upstream against the crowds in my long coat, carrying a queen sized comforter I'd mistakenly purchased first thing, not on my way out to the car (Yep that was me. Enormous shopping-bag lady in a tiny kiosk), I got weak.  I felt my blood sugar plummet and got a little dizzy.  My mouth was dry and my lips were chapped. Water. Must find water. I stumbled to my car, miraculously locating its parking spot on my first attempt. I unlocked the doors with relief, and then a car screeched and a horn honked. But the horn honk wasn't just a quick toot. It was the longest, sustained horn honk I have ever heard in my life. It may have been a full 30 seconds, which if you can imagine it, is long for a horn honk. (Kinda like holding a grudge about something you can't remember for 11 years.)  The honker was sending a message of total rage into the air. An unadulterated, wailing note of anger. It was directed at an offender, but we all got to feel it. It was stunning, and followed by a quick two-note beep!-beep!, which I'll let you decode. Zap.
Christmas is in 4 days. Four is also the number of Christmas cards we've gotten thus far. I'm not taking it too personally because my stack of unstamped cards are staring at me on the kitchen counter waiting for me to remember to mail them. "What's wrong with you?" they're saying. "Don't you care about people? If you don't put goodwill out there, it won't come back to you." The cards are being assholes this year.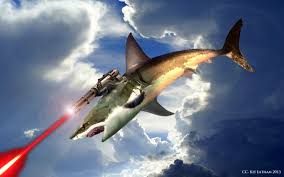 My husband is frustrated with work. I'm frustrated with work. Sometimes I don't like a lot of people. Why are friends not there for you? Some crazy person keeps putting screws under my tire and we have had to patch the tire several times. I'm doing the best I can raising my family in a waspy/hipster suburban town trapped in spiritual high school. It's been like 60 degrees and no trace of snow. And the news isn't helping. It's pretty bad out there lately, isn't it? Zap. Zap. Zap. I am mustering strength. I am resisting the urge to lie down for a long winter's nap. I am fighting the good fight in my own body and spirit, but it's exhausting.
I am venting here. I'm sorry.
But wait, hold on, hold on…. Because I'm getting distracted! CHRISTMAS IS IN FOUR DAYS! I have not yet baked. I haven't wrapped all the presents. I still have shopping to do. We are taking off on a 1000-mile road trip to visit family December 26, which I haven't begun to wrap my brain around. I have a preschool party to host tomorrow. I have a 2nd grade party to attend in 2 hours and I'm supposed to be getting ready. I'm supposed to be spreading cheer like Mrs. Clause, with cookies and ribbons and trappings. I love trappings. I love all the Christmas things. I'm just not magic.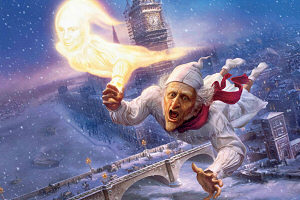 Christmas snuck up on me. You got me this time flying Ebenezers with laser beam eyes. Damn you.  But what you don't you know is that I bought a giant 2-ft gingerbread man cookie at the grocery store last week and it's in my pantry. I didn't bake it, but my kids and I will decorate it soon. It might taste like spicy cardboard by the time we get around to it, but icing is delicious. Sugar might be just the thing to bring on the shiny eyed wonder we are missing in this house — on this block, in this neighborhood, in this town, in this country, in this all-up-in-my-grill accusing Ebenezer universe — albeit a temporary fix. I'll take it with a glass of alcohol. It just needs to last the two-week winter break, or at least a road trip. How about a couple days? Just one?
Christmas?