I wash socks and drop toothpaste at 4 a.m. and think of Hurricane Irma
9/9/17
I like to do laundry at 4 a.m. and read articles online about hurricane Irma. Not really, but that's what I am doing. I couldn't sleep and rather than fight my brain which was whirling like it's own little mini brain hurricane, I got up. (That sounds like I called my brain mini. It's average size.)  When I went to the bathroom I knocked my kid's mint bubblegum toothpaste onto the floor and cringed at the clatter, knowing my husband was already partially awakened by my leaving bed. I looked under the sink where everything in my house rolls to, because my house's floor must be built on a downward slope to my bathroom, and there was a missing soccer sock. Reflecting that there would be a soccer game in four hours made me think I should wash that sock, and all the soccer socks that I had separated from their shin guards and tossed with purpose into the washing machine two days ago. Trying not to think about the early morning puzzle that would follow of trying to rematch 3 pairs of different sized shin guards to their sock pockets, I congratulated myself on my selfless dedication to my children's clean soccer attire and started the laundry. Never mind that I'd be sound asleep through the first game.
Then, of course, I sat down at the computer to look at pictures of destruction in the Caribbean Islands, the playgrounds to the wealthy.
"Billionaire entrepreneur Richard Branson survived Hurricane Irma holed up in his concrete wine cellar," CNBC reported.  "… Billionaire entrepreneur Richard Branson survived Hurricane Irma barreling over his private islands by hunkering down in his wine cellar."
Well, if you are going to survive a category 5 hurricane, that's the way to do it. With Richard Branson in his wine cellar, which according to the smiling photo he tweeted out of himself and his staff "hunkering down," comes equipped with a floor-to-ceiling wood paneled entertainment system, flat screen tv, pull-out white, suede couch (I'm just guessing it's suede, but come on, it's Richard Branson), and at least two sets of bunk beds. His wine cellar looks more like a sleepaway camp for privileged children. No wine, though. The Caribbean Islands were reduced to ruble. Actual ruble! Where was the wine?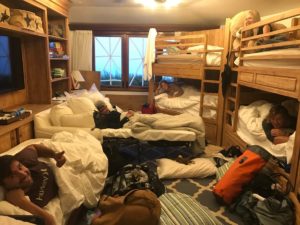 I checked on Aruba. We vacationed there with our kids last spring. Not because we are remotely close to having wealth, because my husband had accumulated a plethora of flight miles through work, and because we had never taken a trip like that before. Aruba seemed to have escaped the worst of the hurricane. Maybe that's why it's motto is "One Happy Island," because of it's relative shelter from hurricanes. The island of Aruba sits at the southern edge of the Caribbean hurricane belt. So it avoids most of the storms and hurricanes that roll through the Caribbean from the Atlantic Ocean each year.
That makes more sense to me. I'm not buying the "One Happy Island" thing that greets you at the airport. No, not me. I'd maybe buy, "Two Cohorts–Us and You–One Island." Though, that slogan feels less festive.
Aruba was an interesting vacation for several reasons. For one, I remembered belatedly that I've never really been "beachy," per se. Not one to easily lie back on a beach and shut out the world, I'm a people watcher, an observer, a theorizer at best, paranoid worrier at worst.  So, sitting on my beach chair in tropical paradise watching the tourists amble up to the tiki bar, I was highly attuned to the fact that the happy service industry workers who attended to our every vacationing need secretly hated us. That may sound over-reactionary. And, yes, let me stipulate, in general, I go ahead and assume most people are judging me and disliking what they find. I own that character trait. It's just how I move through the world and I wouldn't recommend it, but you probably know better and do it anyway too. (It's also very narcissistic.  I'll own that, too. It's okay to be imperfect as long as you know about it.)
But here's the thing, the locals there helping us were very pleasant and treated us well, but the minute I tried to talk actual talky things with them–Like, get down to brass tacks, get real, ask perceptive questions, show interest in their lives on the one happy island–I'd get shut down. The bartenders had heard it all before and it kind of felt like they weren't that interested in where I was from. ("What? Colorado? Get out of here!") That was after a couple fruity island drinks, so I could be mistaken, but I was pretty sure the vibe was actually: "Really? Great! Fuck off now."
The people who worked at the museums and shops, the crew on our snorkel cruise, the staff at our hotel… they were all super upbeat and peppy toward us while doing their jobs, but the second our transactions were through, their smiles dropped and their eyes darkened, like we were already dead to them. The one chatty exception was our cab driver who was surreptitiously taking us the long way, winding through the whole island, in an effort to ratchet up our tab. He had lots to say. And I loved it! By then, we were heading to the airport for the trip home and I was so glad to be finally making some real inroads with one of the locals.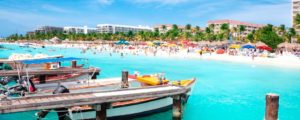 It wasn't just a "vibe" that makes me think they hated us, it was also that they often tried to steal our money. Our restaurant bills would come to us with crazy inverted numbers in them. So a $118 bill for our family's dinner would accidentally be $181. On the first night Mike's jaw nearly hit the table when we thought we'd ordered a $72 bottle of wine. Whoops! It turned out it was $27 and the waitress was so embarrassed! We laughed and joked with her to make her feel better. It could happen to anyone, and it did. To us. The next night. It took a few days to catch on that this was just how business worked on the island. The bill would arrive with scandalous number flipping, "Whoops!" we'd say, the wait staff would gasp with shock and blush and fix the problem. "No worries," we'd tell them. "Okay, bye then." (extend middle finger at us behind our backs as we exit). What a racket. It must work for them all the time.
And then, one evening after dinner Mike and I walked a long way down the beach. We came upon a kid's beach soccer tournament. Our visit was just after Easter, so there was still a lot of local families camping on the beach, and big barbeques and family reunions seemed to be going on. The soccer tournament might have been a local club or a school event. We were clueless, but fascinated. I'd never seen beach soccer before. The moms and dads, friends and family were all there cheering on these kids. This was not too dissimilar from our own experience back home. Folks getting together to watch their kids play–just being soccer moms, all of us, even the dads–but more exotic, with less clothes, and on a white sand beach! We felt like we'd come across something secret and sacred to the locals. They didn't talk about beach soccer on our hotel website. And everyone, even and especially the players, was barefoot.
"To think," I mused, "No sweaty soccer socks to wash! Lucky moms!"
As I inched closer to watch the game I felt a palpable "No, not you" blow right through me on the ocean wind. (It's always breezy there, so the hot temperatures are never uncomfortable at the beach.) I looked up and saw that the women were keeping their distance from us, but clearly wanted to be as close to the game as we were. In that way that people communicate without saying a word, I knew to back off. As casually as we had wandered in, I quickly grabbed Mike's hand, whispered "they don't want us here" and we moved way to the back of the crowd. We stayed to watch the last few minutes of the match, but at a respectful distance.
You know… we come to these islands. We take over. We drink a lot and act out. We drop loads of money which gets distributed unequally, the bulk of it going to resort corporations and outside investors. Most people who live and work there are not getting rich off of us, just getting by. Yet they need us. If that's not indentured servitude, I don't know what that phrase means.
They didn't like us. As a soccer mom who could turn right into a great big mama bear if need be, I got it. We were in their neck of the beach. We needed to get back to our side.
And now these islands in the Caribbean are swamped. They are not Aruba, but are a lot like it, with mega resort after mega resort invading the shoreline. I think it's safe to say the towns consist of shaky infrastructure. The worst of the images on TV and the internet show neighborhoods that look like they had been made of tinfoil and Irma just huffed and puffed and blew everything right over. Ruble.
And this brings me back to my original thought when I started writing that I almost forgot to say here: No one is gong to the Caribbean Islands this spring break. We'll abandon our tropical playgrounds. Because, all the pools are filled with parts of the hotels and most of the beach. The beautiful sandy shorelines have been ravaged.  The resorts have no roofs. If you already have a plane ticket booked to St. Martin this May, you might want to double check there still is an airport on St. Martin, let alone a resort. The staff: they're still there, ready to attend to your every vacationing need. Wikipedia says about 85% of the workforce on St. Martin works in the tourism industry. But, with no tourists to fuel the economy, how will they rebuild… I mean the local people who need infrastructure? No doubt, the resort corporations will pop those mega monstrosities back up along the beach quick as a jiffy–I'm not worried about them–and they better. As gross as that kind of mass redevelopment feels to me, I know without them that Island is sunk. More sunk. Maybe Richard Branson will step in. I hear the French are helping.
I think of our cab driver who pointed out his neighborhood where he lived on the other side of the volcano that stands in the center of the island. We passed Hooiberg in the distance on our long drive to the airport as he swindled us for a few more Florin, and he told us how he remembered the hot work of shingling the tile roof of our hotel as a young man.
Later at the airport I bought a souvenir book about Aruba and saw a couple photos of towns that could have been where our driver lives. Images of "regular neighborhoods" stood in stark contrast to the beachfront resort area we were leaving behind. The homes looked nice enough from what I could tell. Certainly they were humble.
"There's no fancy insulation or expensive heating and ugly burglar bars. No competition with the neighbors. Just home." Reading, I felt the book was really trying in earnest to help me understand. "Nothing special…, except perhaps to the families that live here."  Just home. Normal life, get it? Where all the people who worked in the island's main industry fled to escape us tourists and be themselves. No perma-smiles. No "One Happy Island," except their own. Where they come to after soccer tournaments, work, shopping, and family barbecues. I hope our cab driver lives in one of the nicer, non tinfoil towns. And, I remind myself, he's safe on his happy Island that is not in the Caribbean hurricane belt, and far from Irma.
It's ridiculous of me to lump all those islands together.
"Water seeks its own level," is a saying that vaguely swims through my now exhausted brain. It's not clear what that means and I'm too sleepy to distill that one down.
I shutdown the computer and tuck back into my warm dry bed that is not flooded by hurricane waters but is floating down the streets of Aruba at dawn and rocking with the ocean tide. Just a quick nap before morning soccer, I tell myself.