Wherein I let my kids watch South Park while the world falls apart
8/17/17
Hmm… some parents don't like South Park. I thought I was one of them but, it turns out, I don't really care. (That's maybe a little bit surprising only because I suspect if you just met me, you'd think, "oh, she's totally one of the ones who don't like South Park." But, books and covers and all that.) My new perspective may have something to do with the recent violence on TV that's happening in the real world. By comparison, South Park seems kind of like a G-rated Disney movie.
You know the show? There's about four or so (?) kids in a small Colorado mountain town who never grow or graduate from fourth grade? I'm not going to pretend to have a real informed opinion about it. Yes, I'm aware of the bad words. Trust me, I'm a language cop at my house. Ask my three kids who still believe the S-word is for Stupid. I'm not actually sure why I'm writing about this yet, but I bet it will come to me. It's just on my radar lately in the random way things do.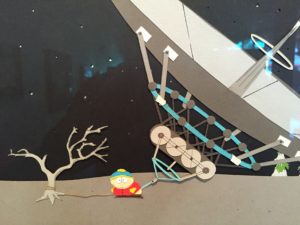 I watched it a little in my 20s when it first came out and it was fresh and funny. Crude, yes. Irreverent, satire, slapstick, parody, spoof– all that. I remember the first episode I saw involved Cartman being abducted by aliens who implanted a hailing device in his butt, and then Kenny got killed.  It was groundbreaking stuff. I'm being glib, But my son? He says it's no less than the best thing he's ever seen on TV. So, at 11, he's where I was at age 25 in terms of appreciating adult cartoons for TV. That's how evolution works, I think.
To prepare for writing this post, I thought of watching a bunch of South Park clips on YouTube and studying up. But, frankly, who has that kind of time? I'm so busy, sitting down to even write this is like a mini-mom rebellion (mom mini rebellion? I'm not mini, my rebellion is).
That and, well, without getting too far ahead of myself, I surrender to the fact that my son is going to discover things like South Park are out there just waiting for him to happen upon. I surrender.  Who else would South Park be waiting for? Who sits around watching a show like that but an 11 year old? Or the mental equivalent of an 11 year old, at least in terms of having the time and inclination for such a show? Or temporarily the mental equivalent of an 11 year old, after a long day at work and a couple beers. That seems understandable to me.
So here's what happened: Unbenounced to me, my oldest son found South Park on his iPad because I let him watch shit on his iPad… because I'm a bad parent. But, lucky for me, I have amazing kids who can tell the difference between a show and real life.
I found out he knew about it because he was suddenly obsessed with the show and started constantly asking to watch it. I saw a little of one episode when my youngest son was in the room where the joke was somehow about Cartman "catching AIDS" when he gets his tonsils taken out, but no one cares because AIDS is so retro and everyone is focused on Cancer now. Awful, right? (But a little funny.) I concur. And, that was when I said it was time to turn the channel and–though I "got" that the show could be funny– it isn't appropriate for a seven year old, or, probably, an 11 year old.  From then on, I said a firm No Way to South Park. Because AIDS jokes can be funny on a Cards-Against-Humanity level, but kids aren't allowed in the room when adults play that game. Right? Agreed.
Then one night I fell asleep early with the TV on and, when I woke up, all three of my kids from ages 14 to seven, were tucked in around me on the bed watching a South Park marathon. I came to and wondered how many episodes they'd seen while I was sleeping. (Their eyes! Their eyes!) But, by then we were so cozy together, and they were laughing their heads off, and I was half comatose, and I didn't have the heart to turn it off. Next time they all asked if we could watch South Park together, I suggested other shows and movies, but that was a nonstarter. So I did what any mom should do, I said Sure! OK, I did what any mom who is me should do.
In addition, and in conclusion, and in summation…again, see those sentences up there about being busy and tired? Not that that permits a parent to go completely off the rails. But, I think there are worse things than letting your kids watch stupid shows. Like letting them watch even 30 seconds of cable network news. A little bit of that stuff gives them nightmares.
And that's where I'm going with this. I figured it out! South Park and all those mind-of-an-11-year-old shows on FX, or Comedy Central, or Cartoon Network… we all watched our version of that when we were 11. Whether that meant the Hanna-Barbera Laugh-A-Lympics when I was that age, or Adventure Time. Those cartoons that disapproving parents expend so much
energy tut-tutting, as though they've completely forgotten their childhood of staring at mind numbing cartoons followed by The WWF for 8 hours straight, unsupervised? Those videos that kids find … why do we care so much? I mean, aside from blood clots from not moving for so long. Do we not think our kids know the difference between real life and entertainment? Didn't you? Don't you remember being 11?
The news is scary and it's based on reality, last I checked. If my kids accidentally see CNN when they stumble in like little drunk clowns (which is how I like to picture them) to my room asking if South Park is on but it's the news and I can't find the remote or leap up fast enough to dive in front of the screen that's showing actual things happening in the world… when I can't shield them from the current events because they are everywhere and not funny on any level… I get questions like, "Are we in a war? Is that guy going to drop a nuclear bomb on us? What's a Xenophobe? What are they fighting about?"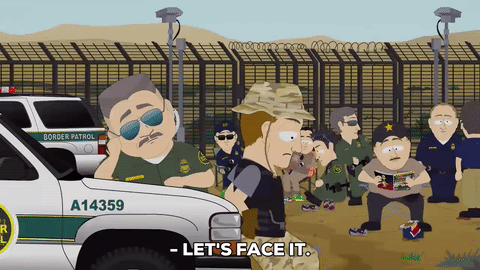 So, that's just my opinion about my kids watching South Park on the iPad, but preferably all together on my bed. You should have your opinion, too. But don't tell me what it is. Just think what you want and do your best.
PS: OMG I just watched a few minutes of South Park and had to turn it off. Some episodes go too far even for me.  Still less offensive than the daily news.