Wherein I have commited tax fraud
8/3/17
So, suddenly, I'm getting lots of calls.
Ever since I started this blog, actually. I know, I know. I mean, it's to be expected. Start a blog and watch your phone just blow right up. It's like they can't get enough of ME… the scammers, that is. I'm being scammed.
I'm the latest victim of this thing called "robocall phishing scams." Have you heard of this? What is happening actually?… is, WordPress sold my contact information. Sold it to everybody, apparently. Random calls started coming in the day after I registered my blog. So now, phone numbers I don't recognize dial me up 3-5 times per day. To combat them, I've found the block caller option on my phone. So, no biggie. They call, I block them, they call with another number, I block them again. (Hi-ya! I'm the Karate Kid of call blocking!) These are easy-to-handle annoyances.
These type of scammers operate at a level of harassment I feel we've all come to accept and expect in this day-in-age. We're tired of it, yes, but at this point, what can you do? They're kind of like harmless adolescent stalkers who can't take a hint (I mean, no, I don't care at all what you're doing tonight and, why yes, as a matter of fact, I do have plans. No, I can't break them. Yes, I'm busy. Very, Very Busy, GREG….  Sorry. That was a flashback. And, I changed the name, though I have no idea why I'd protect that jerk.). Hopefully they will give up on you, or you'll move and change your number, or get a really big boyfriend… or mean dog. One way or another, it can't go on forever, can it?
But this specific robocall text (which I didn't know was a thing) is interesting not just for it's just passing command of English (actually… I'm pretty impressed. Good job ESL teachers!), but because it threatens me with an arrest warrant. LOOK!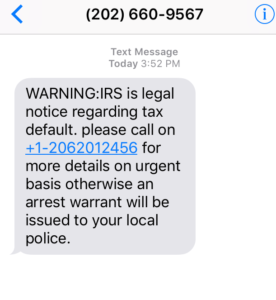 I got two more voicemails saying virtually the same thing, but by a non native English speaking robot. I'm not blacking out the phone number in the picture. I've already reported them to the FTC (the Federal Trade Commission, not the flower delivery company. That's FTD. Not that you would confuse the two… because I sure didn't.). You should too. These guys, or anyone else who tries to mess with you. REPORT THEM ALL. And place yourself on the FTC National Do Not Call Registry.  (https://www.consumer.ftc.gov/articles/0133-cell-phones-and-do-not-call-registry)
And then send someone flowers. It's nice, and… karma.   (https://www.ftd.com)
You can see I'm irritated. How dare they? And a text, of all things. I've never been audited, but I'm pretty sure when it happens the IRS contacts you via snail mail– with an officially postmarked, signed, stamped, and notarized letter. It's not a robot call thing, or robot text thing.  I'm not sure what's more insulting: that these guys are trying to intimidate and rob me, or that they are too lazy to drop a note in the mail.
So, does it go down sort of like this?
Hey Hon, here's an ad on Craig's List for "quick, easy money." And we can work from home! We just need $200 for some list, a second grade education, and no moral compass. 
Or! Is it more like an Eastern Block, Imperialist Russia sort of thing… Like this:
Minions! Today you will be calling 10 million stupid Americans. Remember: ABC! Always Be Closing!!!
What is wrong with people? And by people, I  don't mean just the scammers. Because these scams must be working some of the time. Some small percentage of the scammers' stream-lined automated system must be effective. They are collecting on enough of their calls to cover the initial expense of the lists they ponied up for.  I place at least half the onus for our current state of affairs on the gullible… for the robocalls, the scams… Trump! We live in a culture of heist. It's the wild wild west out there. Whose fault is that? Look no further than your own sweet, Wi-Fi challenged great aunt.
I know. The victims of scams are often those who need our protection the most: the elderly, the sick, the feeble minded… and those who have been living isolated and alone, believing everything they see on cable network news and stocking up on gold bonds. As far as I'm concerned, that last group is just asking for it. And, they are wrecking it for the rest of us.